SUMBAO Multi-Head LED luminaires are ideal for retail accent lighting, provide attractive, versatile, and ultra-efficient accent lighting in retail applications.
Quality, flexibility, and good looks have endeared SUMBAO Multi-Head LED luminaires to retailers, designers, and installers alike. With the introduction of the new series, SUMBAO Multi-Head LEDs now offer more performance and efficiency than ever before. The 18W version of these fixtures produces up to 3074 delivered lumens per head, with efficacies of up to 89lm/W. Rated service life is a remarkable 50,000 hours at 90-percent lumen maintenance.
Product sketch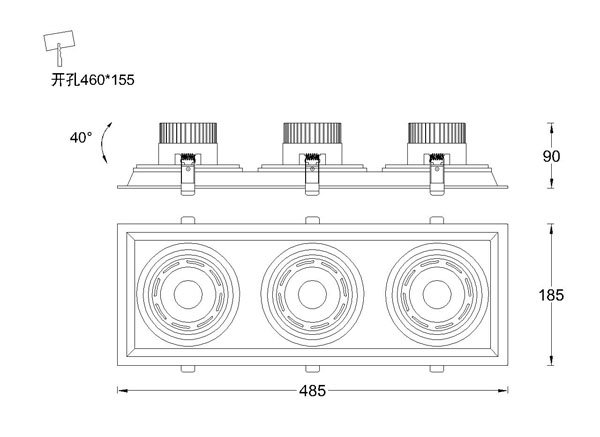 Product Features:
Imported COB LED technology for maximum brightness,high luminous efficacy and high CRI
ANSI Compliant warm/neutral LED bins for a finer color consistency
Delicate appearance, unique modeling, with deep modernbreath.
Specification grade die cast aluminium with sophisticated technology and durable quality, superior heat disspition.
Powder coated surface, gentle and smooth, durable and fashionable.
Universal compatible,replacable lens,with 360° horizontal rotation and 40° vertical adjustment,easily meet the variable scenes.
Environmental-friendly: No RF interference and no flickering, No hazard of mercury or led
Long life span and high in reliability, good at heating dissipation and stability.
Smooth and continuous 2.4G dimming and LiteTrace dimming
7.2mm thick trims mount to ceiling for a thin profile look
Suitable for 1mm~25mm thick ceilings
Easy installation simple and fast to adjust
Application cases: